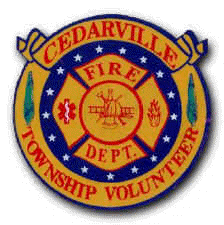 About CTVFD

Welcome to the website for the Cedarville Township Volunteer Fire Department. CTVFD provides Fire and EMS protection covering 55 square miles to the Village of Cedarville, Cedarville Township, and the northern portion of Ross Township in Greene County, Ohio. Our jurisdiction includes the 6,500 residents of Cedarville and Ross Townships as well as the 4,000 faculty, staff, and students who live and work at Cedarville University. We also serve mutual aid for the surrounding jurisdictions assisting with fire and EMS coverage.

Our goal is to provide quick and skillful fire and EMS response in the most efficient and effective way possible. We are radio dispatched through Greene Central Communications 911 Center. On average, we will have a vehicle out the door responding to a call within five minutes of being dispatched. Volunteers respond from home, work, or school to serve the residents of Cedarville. CTVFD responds to around 800 calls per year. Our department is staffed almost entirely by volunteers from the Cedarville community or the campus of Cedarville University. CTVFD has two full-time employees, Chief Kyle Miller and Firefighter David Elliott, as well as over 40 volunteer members who respond on calls.

​The Cedarville Township Volunteer Fire Department operates out of one fire station located at the intersection of US Route 42 and East Street in the Village of Cedarville. CTVFD is equipped with eight Fire and EMS vehicles consisting of a Chief's Command vehicle, Command 13, Engine, Ladder, Tanker, Brush truck, and two ALS Ambulances.
​The village of Cedarville is located in Greene county at the intersection of US Route 42 and State Route 72, approximately 30 miles east of Dayton, Ohio. The town's rich history goes back to its establishment in 1801. The Cedarville Opera House opened in 1888 and is now listed on the National Register of Historical Places. Cedarville's claim to fame is that it's the birthplace of U.S. Senator James H. Kyle who was known as the "Father of Labor Day." Every September the town puts on a Labor Day parade, pancake breakfast, and other festivities to celebrate the holiday. Cedarville has long been the home to Cedarville University - a private, Christian, liberal arts college.

For more information on Cedarville, Ohio visit www.cedarvilleohio.net
Calls Last Month: 73
Year to Date for 2023: 547
Total Calls for 2022: 955
​