Fire and Personal Safety Considerations
It is our goal and desire to see not only provide Fire and EMS protection to Cedarville Township but to also provide public education in personal safety and fire safety. When you need help call 911. Remember when you call to remain as calm as possible and speak clearly to the dispatcher.
Fire Safety Considerations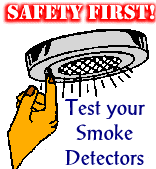 Smoke Detectors - It is no understatement to say that smoke detectors save lives. It is often these small and inexpensive items that serves as a first warning to a real or potential fire. The importance of these devices should not be underestimated. To help protect you and your family, install smoke detectors. Make sure there is at least one on each floor of your house. And for larger houses put several smoke detectors in several parts of your home. It is also important that the batteries be charged. You should check the batteries in your smoke detectors at least once a year. If the low battery chirp starts sounding, change the batteries immediately.
Carbon Monoxide (CO) Detectors - Carbon monoxide is a dangerous, colorless and odorless gas that is often released by the partial combustion of many items. It is most noticeably produced by the combustion of gasoline in automobiles or a malfunctioning furnace. Air concentrations as low as 1200ppm can be hazardous to life. CO detectors can be purchased cheaply at many places. This small device can provide an early warning to a very hazardous and life threatening chemical buildup.
House Numbers - If you have not already done so consider posting your house number either on your house or near your mailbox. This will make it much easier for Fire/EMS personnel to locate your house in the event of an emergency. House numbers can be easily acquired from local hardware stores or green township placards and numbers can be purchased at the Cedarville Fire station.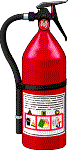 Fire Extinguishers - Often small fires can be contained and extinguished with a simple ABC Fire Extinguisher. Consider locating several extinguishers in locations such as the garage, kitchen and basement. Remember if you have a fire and can extinguish it with a Fire Extinguisher you still must call the Fire Department to fill out a report for your insurance.
Have a Plan - A fire or natural disaster is a very chaotic event. Having a plan of what to do can be the difference between chaos and life safety. Several considerations may be helpful. First, know your exits. Know several ways to get out of your house if you get trapped. Second, find a place to meet. In the event of a fire or disaster, plan ahead to meet in one place so that you know if everyone is accounted for or if someone is trapped. For a fire, find a place that is a good distance from you home to provide safety for your family and room for the Fire Department to work.
Fire Place - While the fire place can be an aesthetically pleasing part of your home remember that it can easily cause a house fire if not treated properly. Have your chimney cleaned regularly. Soot can accumulate on the inside of the chimney and can combust. Fires in the chimney can extend into an attic. Be sure you have a screen on the front of the fire place to prevent sparks and embers from entering your home and causing a fire.
Personal Safety Considerations
Heat and Cold - The heat of the summer and the cold of the winter can cause potential medical problems if not anticipated and dealt with properly. In the winter, be sure that you are warm enough when you go into the cold weather. Hypothermia and frostbite can set in quickly if you are not careful. During the heat of the summer the best way to prevent heat related illnesses is to stay well hydrated. Drink plenty of fluids.
Look Both Ways - Whether you are walking, on a bike or driving a car, the importance of looking both ways at intersections cannot be overemphasized. Accidents frequently occur because someone forgot to look and didn't see an oncoming vehicle.
Winter Roads - Pay special attention to your driving during the winter months. Roads that appear normal may be slippery and covered with "Black Ice." Never assume that you have to reach the speed limit when road conditions are poor. Allow yourself extra room to stop by beginning to break earlier. Apply slow and gentle pressure to your breaks.
Buckle Up - The importance of buckling your seat belt cannot be emphasized. Most motor vehicle crashes occur on commonly driven routes and happen when least expected. Even in low speed accidents, passengers who do not wear their seatbelt can be seriously hurt. We strongly encourage you to buckle up because seatbelts save lives.
---


Cedarville Township Volunteer Fire Department
19 South St.
Cedarville, OH, 45314
Phone: 937-766-5851 - Email: ctvfd@woh.rr.com