Mass Casualty 1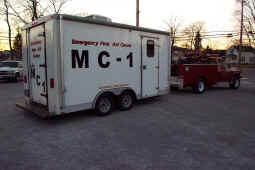 MC-1 is our mass casualty and first aid response trailer. It is the first of three similar trailers in Greene county that can respond to any mass casualty incident. MC-1 is frequently used as a first aid station for large activities at Cedarville University.
The Cedarville Township Fire Department, in conjunction with Greene County Emergency Management Agency, assembled the mass casualty trailer. The primary purpose of this trailer is to provide the resources to care for multiple trauma patients.
The goal of trauma care is safe, rapid removal of the injured from the scene and delivery to definitive care in combination with the highest level of medical care possible during that removal and transport. The mass casualty trailer contains large quantities of supplies for these specific purposes. MC-1 carries 25 adult backboards, 10 pediatric backboards as well as supplies for splinting and bandaging. MC-1 has the added capability to serve as a treatment center with large quantities of oxygen, advance airway tools, cots and other equipment needed to treat victims as they await transport.
In order to maximize the use of this piece of equipment it is outfitted to serve as a command post and first-aid trailer with the added functions of AC/heat, radio communications and its own generator.
A special thanks goes to the Cedarville Firemen's Association for the purchase of the trailer and to Greene County EMA for the funding of many of its supplies. We are also grateful to the Beavercreek Township Fire Department and West Carrolton Fire Department for their assistance of obtaining supplies.
---


Cedarville Township Volunteer Fire Department
19 South St.
Cedarville, OH, 45314
Phone: 937-766-5851 - Email: ctvfd@woh.rr.com