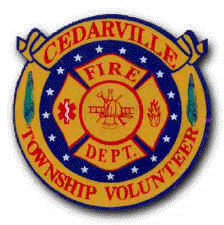 Just for Kids:
The NFPA has an interactive fire safety website just for kids. click here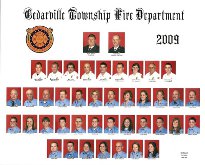 Membership List:
Cedarville Fire Department has an ever-changing membership. To view the names and certifications of CTVFD's members, click here.
HIPAA Policy:
By law the Cedarville Fire Department is required to abide by privacy practices as outlined by the Health Insurance Portability and Accountability Act (HIPAA). To read our privacy practices click here or visit the community page.
Links:
For more information about emergency management
click here.
Welcome to the website for the Cedarville Township Volunteer Fire Department. CTVFD provides Fire and EMS protection to Cedarville Township and the northern portion Ross township in Greene County, Ohio. Our jurisdiction includes about 6500 residents of Cedarville and Ross Township as well as about 3600 people on the campus of Cedarville University. We also serve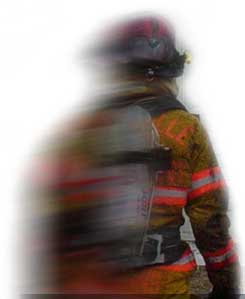 mutual aid for the surrounding jurisdictions assisting with EMS and Fire coverage. CTVFDs combined fire and EMS call totals have averaged more than 600 calls per year and over 100 public service calls. Our department is staffed almost entirely by volunteers from Cedarville or the campus of Cedarville University. CTVFD is made up of 2 full time members and between 40 and 50 volunteer members.

Our goal is to provide quick and immediate fire and EMS coverage in the most efficient and cost effective way possible. We are radio dispatched through Greene Central Communications 911 dispatcher. On average we can have a vehicle out the door responding to a call within five minutes of being dispatched. Volunteers respond from home, work or school to serve the village and township of Cedarville.

The village of Cedarville is located in Greene county at the intersection of US Route 42 and State Route 72 approximately 30 miles east of Dayton, Ohio. The town was founded in 1801. Cedarville has long been the home to Cedarville University a private, Baptist, liberal arts college. Cedarville is most notably known as the birthplace for U.S. Senator James H. Kyle who was known as the "Father of Labor Day."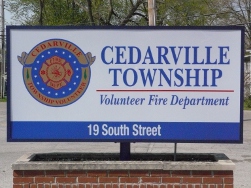 The Cedarville Township Volunteer Fire Department operates out of one fire station located at the intersection of US Route 42 and East Street in Cedarville. CTVFD is equipped with 9 Fire and EMS vehicles consisting of a Chief's vehicle, an Assistant Chief's vehicle, a Pumper Engine, Ladder truck, a Tanker, Rescue truck, 2 ALS ambulances and Grass truck. We also house MC-1, one of three mass casualty trailers in Greene County.
read more